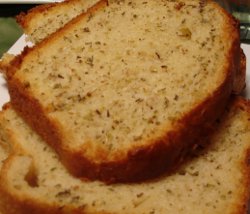 TEXAS TOAST GARLIC BREAD
8 thick slices of good quality bread
1 cup (2 sticks) of butter
salt, oregano, and granulated garlic to taste (
omit salt if using salted butter
)
Melt the butter in a microwave safe dish. Spoon 1/8th of the melted butter over each slice of bread, using the back of the spoon to spread the butter evenly. Sprinkle each slice with salt, oregano, and granulated garlic. Bake in a 400 degree oven for 10-12 minutes, or until golden and crispy.
DON'T FEEL LIKE HOMEMADE
Pick some up in the frozen food section of the supermarket.