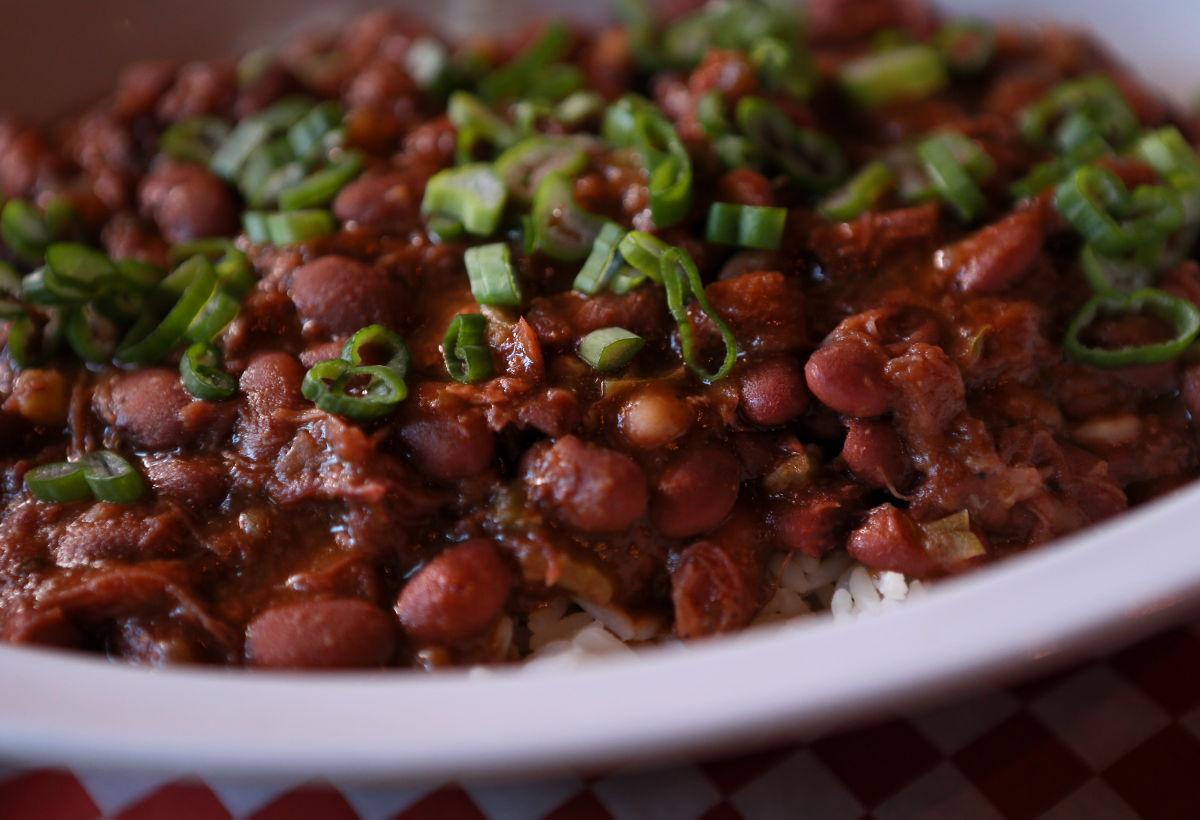 RED BEANS and RICE
Highway 61 Roadhouse Restaurant Recipe
1 pound dried small red beans
1 large ham shank
2 tablespoons olive oil
2 cups diced yellow onion
1 cup diced celery
1 cup diced green pepper
1 tablespoon minced fresh garlic
1 tablespoon paprika
1 teaspoon granulated onion
1 teaspoon cayenne pepper (
see note
)
1 teaspoon white pepper
1 teaspoon black pepper
1 teaspoon dried thyme leaves
1 teaspoon dried oregano leaves
3 whole bay leaves
1/2 teaspoon sea salt
ham stock as needed
to serve, cooked white rice
Notes: One teaspoon cayenne makes for spicy red beans; 1/8 teaspoon was plenty for our taste. The longer the beans soak, the shorter the cooking time.
Soak beans. Rinse and drain red beans, cover with water plus about 3 inches, let soak for at least 2 hours and preferably overnight.
Make ham stock. Cover ham shank with about 6 cups water in a large pot, cover with lid and simmer for about 3 hours. Lift shank from pot, cut away and discard visible fat, shred and set aside the meat. Strain the ham stock.
Make beans. In a large, heavy pot, heat olive oil until shimmery on medium high. Stir in onion, celery, green pepper, garlic, paprika, granulated onion, peppers, thyme, oregano, bay leaves and salt. Cook, stirring often, until the vegetables begin sticking to the bottom of the pot. Add just enough ham stock to cover the beans. Bring to a boil, cover and cook for two to six hours, adding more ham stock as the beans absorb it (
you may not need all the stock
), until beans begin to break up to form a creamy, soupy (but not watery) consistency. Stir in shredded ham and let simmer for an hour.
To serve Highway 61 Roadhouse style, fill a small bowl with 3/4 cup cooked rice and top with 1 cup beans. Makes 10 cups.