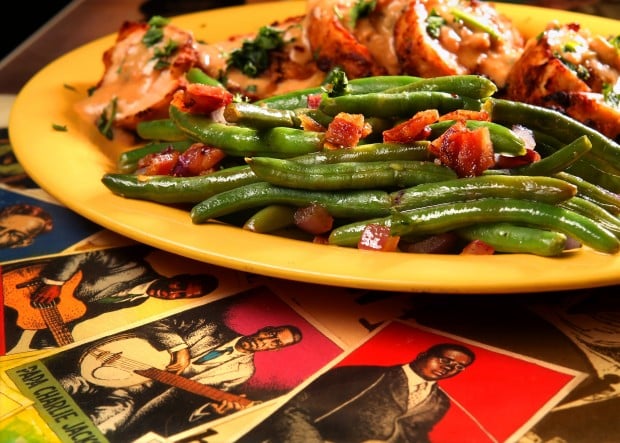 GREEN BEANS
Highway 61 Roadhouse and Kitchen Recipe
4 tablespoons bacon grease
1/2 cup red onion, diced
1 pound frozen haricot verts (
see note
), thawed
1/2 cup Worcestershire
1/4 cup crisp cooked bacon pieces
1 teaspoon red pepper flakes
sea salt to taste
freshly ground black pepper to taste
In a large skillet, heat bacon grease until hot. Add red onion and saute until onion becomes almost transparent. Stir in haricot verts, Worcestershire, bacon and red pepper flakes. Toss until green beans are hot but still quite crunchy to the bite. Season with salt and pepper, toss one more time.
To serve Highway 61 Roadhouse-style, serve beans in a black footed molcajete.
Note: Pronounced "a-ree ko-VER," haricot verts means "green beans" in French, and in culinary terms, refers to a longer, thinner green bean. Look for bags in the freezer section. Highway 61 Roadhouse prefers haricot verts for consistency in flavor and size. Makes 4 servings.